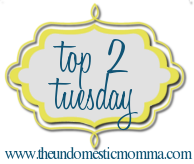 I loveee me some Top 2 Tuesday with the Undomestic Momma so why not partake in today's topic:
Top 2 Things You've Learned About Money
1. Working at Groupon has really helped engage my inner deal getter. A friend at work today told me it seems every Groupon employee seems to refuse to pay full price, and this Design Apprentice is really no different. My Bohemian Mother would be and is uber proud. We don't need money to make us happy but at the same time one can be pretty darn happy to save a couple buckaroos also.
2. Staying in can be just as rewarding as going out. Growing up my Italian father was not a big fan of my poor mothers cooking. To remedy this he would cook or we would go out to eat. Essentially I grew up eating out at least 5 times a week, I can't make this up. Handsome enjoys eating in more than going out, it's how he was raised.  We really are so opposite in so many ways and they're all in ways in which we balance each other out. To transition I have learned new recipes and we've made cooking into a date. It's really opened me up to the intimacy of cooking at home and being just the two of you, no waiters or other patrons to worry about.
PS: Check this out over at analyze this: I am so excited to partake, like giddy.